FltPlan SMS provides flight departments with the tools needed to comply with the SMS requirements of FAA Advisory AC120-92a, ICAO, and IBAC's IS-BAO.

Our SMS integrates with your FltPlan account for easy entry and retrieval of weather briefings, navigational logs and FRATs for flights entered by your flight department. All records and documents can be stored on our secure servers, accessible online by everyone on your team, or to show inspectors, from anywhere in the world. Our system allows you to create multiple, custom FRATs to accommodate the unique needs of your flight department.
SMS Features
Written and online documentation of implementing Compliant SMS for your company.
Guidance on use of ICAO / FAA / IS-BAO compliant templates.
An SMS Compliance Certificate for each aircraft in your fleet.
Expert SMS phone and email support.
Dashboard showing FRATs, Open Risks, Special Messages and Training notices.
Multiple, customizable FRATs.
Individual account and dashboard for each user / employee.
Supports multiple FltPlan user accounts in one SMS system.
Fully accessible by company employees without FltPlan accounts.
Automatic email notification to top management when a new accident, incident, or hazard is reported.
Ability to notify various levels of the company based on department.
Uploading of all SMS-related documents including policies, manuals, checklists, photos, etc.
Records of all past risks, selectable by department, issue, status, and date range.
Ability of management and auditors to perform internal / external audits of the SMS system.
SMS Dashboard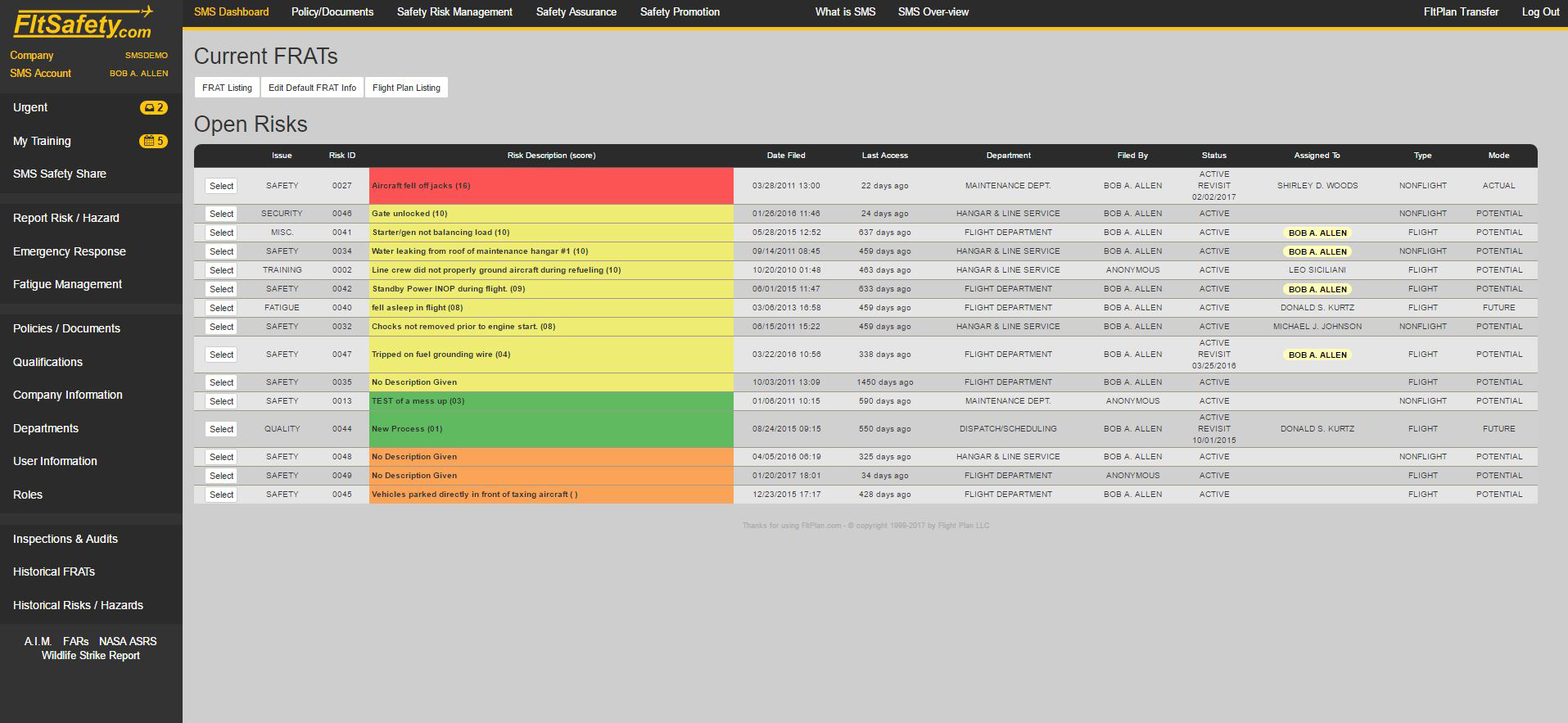 Flight Risk Assessment Tool
FltPlan's FRAT (Flight Risk Assessment Tool) feature assists pilots and flight departments in managing potential hazards and risks and ensuring overall safety within flight operations. This feature integrates with FltPlan user accounts and allows users to customize FRATs for their unique operation and aircraft.
Click Here for a Sample FRAT

In addition, with the FltPlan FRAT feature, you can:

Create multiple, custom FRATs.
Customize Hazards and Hazard Values.
Automatically notify a manager and/or chief pilot when/if a flight exceeds the predetermined risk limit.
Archive FRATs for future audits.
Include Notes with FRATs.
Communicate approval or recommendations to the pilot to decrease high FRAT scores.
FltPlan's SMS FRAT feature comes with expert phone and email support.
To sign up or learn more, call our SMS team today at
731-855-8000.